Article information
Doosan Bobcat Holds Dealer Conference in India
2019-01-01
Article Content
Doosan Bobcat India Pvt. Ltd. ('DBIN') conducted the first Bobcat Dealer Conference at Chennai, Jan. 23-25, 2019. It was attended by more than 90 participants from 23 dealers from India, Sri Lanka, Nepal and our management team with Area Sales & Service Managers. During the three-day program, DBIN strengthened the Partnership with channel partners by sharing key achievements in 2018 performance and this year's strategic direction and BHL launch plan.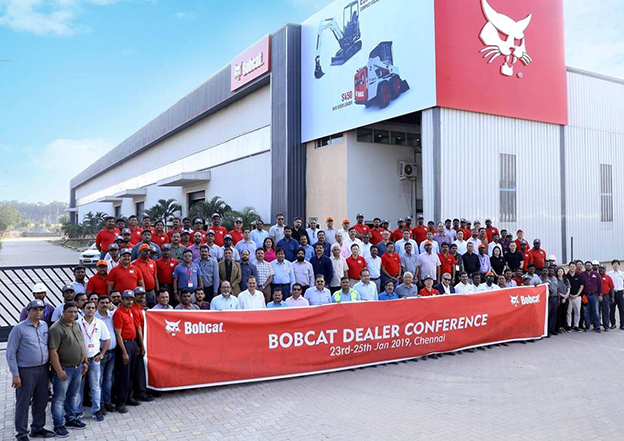 The three-day program started off with a visit to our new BHL Factory at Gummudipoondi. HW Park, Executive Vice President Doosan Bobcat Asia & Latin America and BS Ahn, Vice President of DBIN Operations were present. A tour of the state-of-art factory and production line of Backhoe Loader was given by Praveen Kumar B, head of manufacturing. The product demonstration of SSL, MEX was done by Sinto John and commentary by Arun Joshua. The BHL demonstration and commentary was by Pushparaj G.




The second day program started with a video welcome message by Scott Park, CEO & President of Doosan Bobcat. He highlighted India being one of the major focus countries for Bobcat business and how our channel partners are crucial to the strategic success and growth. In the morning session, the focus was to share about Doosan Bobcat Global Vision & Strategy in terms of Product and Geographic diversification by Mr. Daewang Kim. It also included, the DBIN Growth Strategy to become the market leader in Indian Compact construction equipment industry with product bundling, stronger channel network, and supportive commercial packages by Mr. HS Kim. DBIN introduced the progress of Bobcat BHL product development & BHL Commercial & Aftermarket launching plan.




The afternoon session started with Gaby Rhayem, MEA Director, presenting the successful launch of Bobcat BHL in Middle East Africa and the various initiatives, marketing activities, and strong channel network presented. His presentation was followed by Samir Bansal's Off-Highways Research presentation on the Indian Compact Market Potential and Growth. From the dealer side, Marwell Enconn presented the success story of becoming a sustainable Compact dealer through sales, AM/PS, rental, buyback, refurbished used machinery sales, annual O&M contract with Government and Corporate, SSL operator training school and more.
At the closing session, HW Park, Executive Vice President Asia & Latin America, emphasized how the introduction of BHL will play an important role in India business success. He asked for their continued collaboration, passion and dedication from channel partners to become the number one company in Compact products in India.




During the conference, HS Kim, Director of DBIN Commercials, said, "We took this opportunity to highlight to our channel partners about Doosan Bobcat's commitment to India region and our full support for successful BHL launch in this year with our reliable product."
After the conference Mr. Prabodh Ahuja, HTE Engineers from Indore of Madhya Pradesh, stated, "The whole dealer conference program has been designed and put together with a clear idea of helping us understand the approach of Doosan Bobcat for India market. After the walk-around of factory, followed by a spectacular demonstration of BHL proto machines, I was convinced about the quality of product as well. Later during conference session after hearing about Bobcat's strategy and commercial launch plan with respect to BHL, it leaves me without a doubt about the strong intent of Bobcat to become the Leader of Compact segment in India. Now it has become clear that we as Bobcat Channel Partners need to think the same direction to that growth and start putting our focus in place to achieve the goal together."
During the Gala Dinner Mr. Sanjay Singhania of Gauri Enterprises, our dealer in Pune, Maharashtra, said, "It is always a good feeling to be pleasantly surprised. I have dealerships for other construction equipment brands and visited several abroad manufacturing facilities, one of the examples like Atlas Copco facility in Germany and was impressed with their amazing state of the art factory. Today after visiting Bobcat facility in Chennai, I have the same feeling. It makes me proud that Bobcat has created this amazing facility in our own India. With the kind of emphasize on quality of the process explained during the factory tour, I am absolutely confident of the quality of the BHL product and its success in the market"
The last day was one-on-one interaction with the Channel Partners accompanying DBIN management and Area Managers on the annual business KPIs and Strategic Initiatives for the year of 2019.
The combined and dedicated effort from all the departments at Doosan Bobcat India made this conference a huge success.